Scholarship Spring 2023 Winner Lauren Boone
Spring 2023 Winner Of the Adopted Child Scholarship
Lauren Boone
Lauren Boone has been named the Spring 2023 winner of our Ramage Law Group Adopted Child Scholarship. We are honored to show Lauren support as she continues her undergraduate studies at Baylor University. Ramage Law Group wishes Lauren the best of luck in her academic journey and beyond.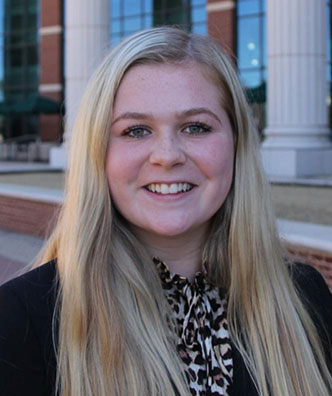 Read Lauren's Essay:
Being adopted has been the greatest blessing in my life, and I would not be the person I am if not for it. However, it has come with its own unique challenges as I have matured and faced health issues. When I had an ovarian cyst rupture in March, I saw different specialists to find answers. At the gynecologist, I was asked multiple questions about my family history, to which I had no answer. The risk of polycystic ovarian syndrome (PCOS) is heightened with genetic predisposition. Sadly, I was left no information about my biological parents and their health history when I was adopted.
This problem is faced by most adopted children, as we live in a world of "what if's?". We must rely on screenings and preventative care in attempts to make ourselves aware of any conditions we may have inherited. With the help of technology, there are many solutions to this concern. When families place a child up for adoption, they should be required to submit an accompanying family medical history. If heart disease or a predisposition to cancer runs in the family, that prior information could potentially save the child's life later on. This is also especially helpful for cognitive illnesses such as Parkinson's and Alzheimer's. If this information is lost or is not handled properly, physicians should be allowed access to the biological parents' records. Many illnesses are hereditary, and physicians need access to these possibilities to best care for their patients.
My relationship with the family that adopted me has been nothing short of wonderful. My parents have worked hard to provide me with opportunities and resources I would not have had if I would have remained with my biological family. My biological parents were still in college, and were not prepared to give me the life they believed I deserved. Ultimately, their sacrifice to place me with an equipped family to raise me has altered my entire life. They have provided me with stability and instilled confidence in me that I can achieve any of my dreams. My mother has been a nurse for 25 years, and her empathetic and kind nature has truly shaped me. There is no one better suited for that role than her, and it has been a privilege to see all of the lives she has impacted. After a Sunday lunch during winter break at home, one of her recent patients stopped us outside and updated her on their situation. This is not an unusual occurrence for her, because she pours her heart into her patients. They remember that, and they easily recognize her outside of her hospital scrubs. Her occupation has inspired me to enter the healthcare field myself.
Despite occasional frustration from not knowing my own health history, my mother has taught me how to look on the bright side and stay persistent with finding answers. My entire family has loved me unconditionally and I have never once felt different, ashamed, or isolated. This has also imprinted me with the belief that our differences deserve to be celebrated, and each person provides a unique story that is valuable. After growing up in a small town in Illinois, transitioning to a large school in Texas has opened my eyes to new experiences and new stories. My parents initially showed me how to appreciate diversity, and having an adopted African American brother has also shown me the beauty of diversity. I hope to carry this appreciation into the field of medicine, as everyone deserves to be heard and cared for equally.
As someone who was adopted, I understand the importance of knowing your family history. Therefore, as a future physician, I would strive to ensure that I have all of the necessary information to construct a plan of care. Their wellbeing is my utmost priority. The records of biological family members is a valuable tool that should be utilized.
As I have gotten older, I have realized how useful my biological parents' information would be. Although I do not have PCOS currently, it would be a relief to know if my chances of developing it were slim or high in the future. My brother has also faced challenges. He has ADHD, which can also involve a genetic predisposition. Knowing this earlier on would have benefitted my family, and allowed us a chance to prepare so he has the best chance at success. Adoption is a wonderful process and I am blessed that I was adopted by a family who supports me whenever health challenges are thrown my way. However, my experience has made me more passionate about my future career and the necessary changes that need to be made to accommodate people that are adopted.
Finding The Right Attorney Matters. Contact Us Today.
A family lawyer does much more than simply provide legal answers. Our lawyers explore a variety of different solutions to help you achieve your goals and secure your family's financial and emotional future and stability.
To discuss your case or set up a consultation, call us at 972-562-9890 or use the online contact form.