LET US BE YOUR
FAMILY'S

ADVOCATE
Why You Must Take Your Divorce Seriously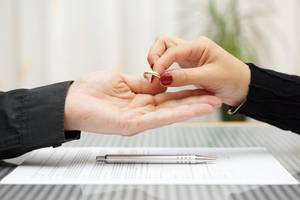 If you and your spouse have reached the point where a divorce seems inevitable, you might be inclined to try to get through the process of divorce as quickly as you are able. In fact, a large number of attorneys and law firms seem to suggest that faster is automatically better. However, a quick divorce is not always the best route to take, especially if you and your spouse have accumulated substantial assets or have other complicating factors. It is critical to make sure that each aspect of the divorce is addressed properly, even if doing so means taking a bit more time than you would prefer.
Change Your Way of Thinking
You probably have perfectly valid reasons for wanting your divorce to be finalized quickly. Maybe you met someone and are anxious to start a new relationship. Perhaps, you are just ready to be done with your spouse after many years of fighting and bitterness. Or, maybe the thought of a long divorce just does not sit well with you. Whatever your reasons may be, a fast divorce might be possible, but you must be certain that you are not giving up too much to get there.
Potential Dangers
A divorce is more than just the end of a romantic relationship; it is also the severing of the marital contract you have with your spouse. This makes a divorce a complicated process with numerous important steps. Among these is a full financial disclosure to ensure that both parties receive an equitable share of the marital estate. Regardless of how little or how much you make, racing through your financial disclosure could create problems for you. If you forget about a source of income or an asset, you could be accused of trying to hide the asset in question. Accusations of hidden assets or incomplete financial disclosures could result in your divorce taking much longer than you wanted.
Hasty decisions could also become incredibly expensive. For example, if you sign an agreement regarding spousal support or asset division without reading and understanding it fully, you could wind up giving your spouse much more than you intended to give. Or, you might be surprised in the future that the tax implications of your divorce were much greater than you expected, leading to more costs and aggravation.
Work Closely With a McKinney Divorce Attorney
It might seem like hiring a lawyer will only prolong your divorce, but this is not necessarily the case. Your attorney can help you move the process along while ensuring your rights and best interests are fully protected. To learn more, contact a Collin County divorce lawyer at The Ramage Law Group. Call 972-562-9890 to schedule a confidential consultation today.
Source:
https://www.forbes.com/sites/heatherlocus/2018/06/01/5-crucial-steps-to-make-your-divorce-less-painful/
Finding The Right Attorney Matters. Contact Us Today.
A family lawyer does much more than simply provide legal answers. Our lawyers explore a variety of different solutions to help you achieve your goals and secure your family's financial and emotional future and stability.
To discuss your case or set up a consultation, call us at 972-562-9890 or use the online contact form.