LET US BE YOUR
FAMILY'S

ADVOCATE
How Do My Spouse and I Divide Our Business in a Divorce?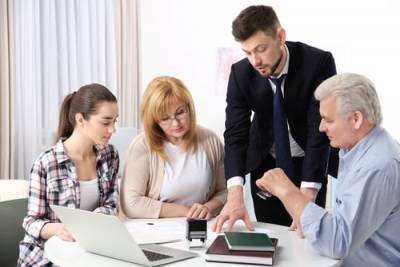 Enterprising spouses often start up businesses together, finding interesting and unique ways to bring extra money into their family coffer. Sometimes this looks like a formal business establishment, and other times it might be gradually buying up real estate to rent out on platforms like AirBNB. Whatever the format, when it comes time to divorce, a couple's business needs to be divided just like any other marital asset.
Dividing a business can be very difficult, however, as spouses often disagree about how much of the business is marital vs. personal property or what the true value of the business is. In cases like this, make sure you have the help of an experienced business owners' divorce attorney who can assist you in resolving these tricky issues.
Can One of the Spouses Keep the Business in a Divorce?
Texas law requires community property to be divided in a "just and right" manner, which usually means something close to 50/50. If one of the spouses owned the business before getting married and did not protect that business with a prenuptial agreement, it can be very difficult to determine how much of that business is community property rather than the personal property of the spouse who originally owned the business.
Generally, however, the increase in a business's value that occurred during a marriage is seen as community property, especially if both spouses were heavily involved in running the business and helping it succeed. Of course, this is definitely true of businesses that start after a couple is already married.
Spouses who share ownership of a business have three options: They can sell the business and split the proceeds; have one spouse buy out the other spouse's ownership value so one spouse ends up owning the entire business; or continue owning their portions independently and operate the business together, even after the divorce.
The third option is rarely exercised because it can be very difficult to maintain good relations with someone after divorcing them. More often, the value of the business needs to be obtained for purposes of dividing the business, selling it, or buying out one spouse's share of the value.
Valuing the business usually requires the help of a business accountant who will look at the type of business and determine the best way to assess its value using the asset approach, the market approach, or the income approach. Your divorce attorney can help you select an accountant who will make sure your business's valuation is fair and that any agreement you come to with your spouse benefits you. Whether you decide to try to keep the business will depend on many factors, including your long-term financial goals and personal commitment to the business.
Contact a Collin County Business Owners' Divorce Lawyer
Managing issues of business division during divorce requires a thorough understanding of Texas divorce law coupled with a commitment to ensuring you get the best legal representation possible. Contact the McKinney, TX business owners' divorce attorneys at The Ramage Law Group to make sure you get your fair share of your marital assets. Call us at 972-562-9890 today to schedule a confidential consultation.
Source:
https://guides.sll.texas.gov/community-property/property-division-in-divorce
Finding The Right Attorney Matters. Contact Us Today.
A family lawyer does much more than simply provide legal answers. Our lawyers explore a variety of different solutions to help you achieve your goals and secure your family's financial and emotional future and stability.
To discuss your case or set up a consultation, call us at 972-562-9890 or use the online contact form.