LET US BE YOUR
FAMILY'S

ADVOCATE
What Is a High-Conflict Divorce?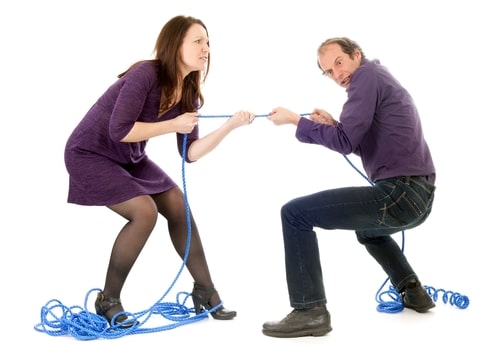 You might hear the term "high conflict divorce" used to describe a divorce that is far more contentious than usual. If you and your spouse cannot stand to be around each other, yours is likely a high-conflict divorce. High-conflict divorces are often contested in court because the spouses cannot come to an agreement, although in some cases, mediation or negotiation does work. A lot of complications can arise in high-conflict divorce. If these couples do try divorce mediation, it is usually a type of mediation that does not involve bringing the spouses together in person. One or both spouses involved may be more concerned with spiting the other than meeting their own needs in these cases. If there are children involved, a hotly contested custody battle is very likely to ensue. If you are preparing for high conflict divorce, it is important to choose a highly strategic attorney to fight for you.
Types of High-Conflict Divorce
Any kind of divorce where the spouses are fighting a lot and not able to compromise readily can be described as high conflict. Divorce situations that are normally described as high conflict include:
Contested divorce - Any divorce where the spouses will need to go to court to have a judge make decisions about the issues in their divorce is automatically considered high conflict. Even spouses who are not getting along at all sometimes succeed in mediation.

Abuse cases - Any time there has been spousal abuse in a marriage, the divorce is likely to be treated as a high-conflict case. Protection orders are often needed, and in some cases, one spouse may even have criminal charges pending for domestic violence.

Failed mediation - If you tried divorce mediation and it resulted in nothing more than a shouting match, yours may be a high-conflict divorce. This may mean that you need to consider a different type of divorce mediation that does not involve seeing your spouse or contesting the divorce.

Lack of cooperation - It sometimes happens that one spouse digs in their heels and refuses to cooperate with the divorce process in any way. This may mean that your spouse is dodging service, violating temporary court orders, or failing to show up for mediation appointments.

Hurt feelings - Sometimes spouses are simply extremely angry with or hurt by one another. If this is the case, your lawyer can use strategies to minimize contact with your ex so that any conversation stays solution-focused.
While getting through a high-conflict divorce can be difficult, there is a lot your lawyer can do to minimize conflict during the divorce process.
Contact a McKinney, TX, Divorce Lawyer
The Ramage Law Group is experienced in helping people achieve a positive solution to their high-conflict divorce. Our aggressive Collin County divorce attorneys will do all we can to reach a favorable outcome. Contact us at 972-562-9890 to arrange a confidential consultation.
Finding The Right Attorney Matters. Contact Us Today.
A family lawyer does much more than simply provide legal answers. Our lawyers explore a variety of different solutions to help you achieve your goals and secure your family's financial and emotional future and stability.
To discuss your case or set up a consultation, call us at 972-562-9890 or use the online contact form.